We'd love to worship with you!
All are welcome to worship with us- whether that be in-person or online. We believe in gathering together, in community, to worship, pray, and sing. We gather together every Sunday morning at 10 am!
At Eastside, you can expect a mix of hymns, original, and contemporary songs; liturgy rooted in justice, inclusion, and scripture; a thought-provoking sermon written with intention; a time for action- through prayer, art, or financial giving; a time to break bread as we share in the Eucharist together every Sunday (with freshly baked bread by our friends at Bake-N-Jam); and a benediction to send us off to go in peace to love and serve the Lord!
If you are coming in-person, we have freshly brewed coffee and tea at our coffee bar. Come early to grab some before service begins. If you are joining us online (click here) please make sure to leave a comment saying hello in the YouTube comment! We look forward to worshipping alongside you.
COVID-19 POLICY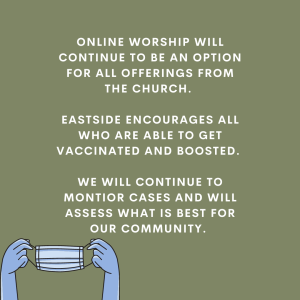 ---
PARKING & MARTA
We're located at 468 Moreland Ave SE, Atlanta, GA 30316 at the corner of Moreland and Metropolitan Ave.  We have parking across the street off Metropolitan Ave and there will be Eastside volunteers ready to assist and direct you where to park.  You can enter the building through the front doors off Moreland. The doors at the rear of the building through the playground will take you to our coffee bar and Eastside Kid's Collective wing. The following map will show you where our parking is located (red star).  The green lots are open for Eastside attenders.
MARTA buses 4, 32 and 74 stop right outside our sanctuary.